The Ritz Carlton-Bangalore
Location: Residency Road, Bangalore
Discover the life of sublime pleasures, one that can now be experienced at the World's Finest Luxury Hotel, The Ritz-Carlton Bangalore – a 5 Star Luxury Hotel developed by Nitesh Land; located in the heart of Bangalore at Residency Road.
This elegant 277- room 5 star luxury hotel developed by Nitesh Land with its convenient downtown location, richly appointed guest rooms & suites and multiple dining options will set itself apart from the rest in India.
With the unique design of the Ball Room, The Ritz-Carlton, Bangalore is an attractive place for the city's milestone celebrations, social gatherings, conferences and business meetings– all enhanced by the exceptional The Ritz-Carlton service and expertise.
Additional Information
Overview
Enjoy fresh fruits, flavored water and frozen cocktails at our outdoor swimming pool and whirlpool located on Level 5 where you can relax and unwind reading the morning newspaper.
Our well-appointed Business Centre provides around the clock assistance with your business, entertainment and travel arrangements. At our full service fitness center, our guests can work out with a view of the city.
Indulge in signature treatments and products at our 15,000 sqft. Spa operated by world renowned ESPA where you can revive your spirit and indulge your senses and relax with a well-deserved SPA treatment, an urban refuge which will give you a welcome reprieve from a busy day. Our vitality pools, steam rooms and private spa suites will be the best one can experience.
This luxury hotel also boast of a world renowned Hair Salon operated by internationally acclaimed Italian hairstylist – Rossano Ferretti who presents the finest and personalized attention to all his guests.
The Ritz-Carlton Bangalore has chic and unpretentious dining options showcasing the best of global culinary offerings.
'The Lantern' the dim sum and Chinese house, 'The Market' brings in the concept of all-day dining-three meal restaurant, 'Riwaz' the Indian restaurant, designed by world renowned Super Potato; a delectable global patisserie – 'Ganache' and owned and Asia's finest Roof Top Bars 'Bang' with panoramic views of the city as well as its in house – The Ritz-Carlton Bar.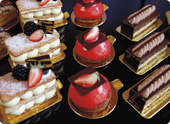 Ganache
The gourmet retail promenade 'Ganache' invites you to indulge in its collection of tempting sweet delights. Customized wedding cakes, patisserie, decadent chocolates, aromatic coffee and a selection of the finest tea, skin care products and fragrances create the perfect opportunity for surprising your loved ones with a sweet gift or an occasion of pure indulgence.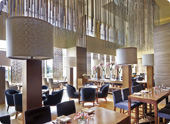 The Market
Celebrate the diversity and splendor of world gastronomy within the inviting ambiance of The Market, a contemporary all-day dining restaurant. Savor Western, Indian and Asian creations prepared live in open kitchens and at interactive cooking stations; explore an assortment of handcrafted pastries and delight in the rich, exotic aromas of gourmet coffees and teas.
Location: Level 3
Hours of operation: 6:30 a.m. to 12:30 a.m.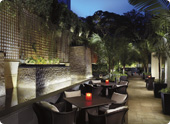 The Lantern
Experience authentic Chinese creations in distinctive indoor or outdoor environments. Masterful Dim Sum served from roaming carts and flavorful regional delicacies embrace China's proud gastronomical heritage while a chic lifestyle bar on level three offers unique Asian spirits, cocktails and more.
Location: Level 1,2 &3
Hours of operation: 12 p.m. (noon) to 11:30 p.m. (Restaurant)
5 to 11:30 p.m. (Bar)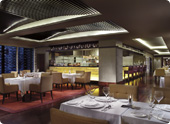 Riwaz
Riwaz serves authentic delicacies of the celebrated Northwest Frontier cuisine in an environment influenced in equal parts by contemporary style and rustic charm. Witness traditional cooking techniques as irresistible menu selections are prepared live before your eyes and explore the liquid intrigues of the restaurant's dedicated bar and whisky tasting table.
Location: Level 4
Hours of operation: 7 to 11:30 p.m.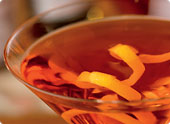 Bang
The highest rooftop bar in a five-star luxury hotel in Bangalore, Bang offers commanding panoramic city views and innovative night life concepts. Trendy shooters and creative cocktails enhance the evening while creative petite sliders and mezze platters lend to the distinct menu selection. Celebrity DJs provide a unique soundtrack to every unforgettable downtown experience at the venue's rooftop gardens and private outdoor seating.
Location: Level 15
Hours of operation: 5 to 11:30 p.m.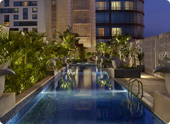 The Pool Bar
Nestled atop The Lantern, The Pool Bar offers the goodness of garden-fresh salads, gourmet sandwiches and light bar foods accompanied by refreshing concoctions of fresh fruit and classic cocktails, all within secluded cabanas.
Location: Level 5
Hours of operation: 9 a.m. to 6 p.m.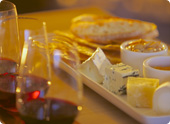 The Ritz-Carlton Bar
The Ritz-Carlton Bar serves the finest imported spirits, cognacs and classic cocktails paired with artisanal cheese boards and other handcrafted specialties in an intriguing setting inspired by the design elements of India.
Location: Level 3
Hours of operation: 5 to 11:30 p.m.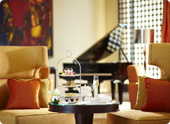 The Lobby Lounge
Explore the varied charms of The Ritz-Carlton legendary Afternoon Tea service, exotic cocktails, memorable light appetizers and dedicated menus for both coffees and loose teas within the compellingly modern setting of The Lobby Lounge.
Location: Level 3
Hours of operation : 11 a.m. – 8 p.m.
Here guests will enjoy a luxurious respite from the world outside with the hotel's impeccable service, extravagant facilities and a legendary experience which only The Ritz-Carlton Bangalore can accord.